Dynamic Solutions to Unique Needs
At Maloney, Reed, Scarpitti & Company, LLP, we know that every company is unique in the way they conduct business and pursue corporate vision and mission. This is why we provide a full range of services tailored to meet the various needs that companies have when it comes to the following: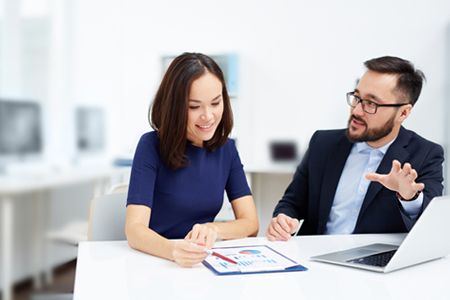 Accounting
Bookkeeping
Business Consulting
Estate Planning
Financial Statements
Fraud Examination and Review
Tax Preparation and Planning
Auditing and Attest
Sustainable Growth
Through strong partnerships with our clients, we help businesses manage accounting tasks and also enable them to achieve sustainable growth. By combining dynamic solutions with seasoned accounting expertise and knowledgeable business acumen, our clients have peace of mind knowing that their financial future is in good hands.
Always for the Long Haul
We have been in the business for more than 43 years and as a matter of policy, we focus on establishing long-term relationships with all of our clients. We follow the same philosophy when picking the people to work with us: only the best, brightest, and most committed. Most of our employees have been with us for years.
Our Story
In 1979, Mike Reed joined the firm of Maloney & Vickey as a partner. The addition of Mike to the Baldwin Building office necessitated a change in the company name to Maloney, Vickey & Reed. Jeff Vickey left the firm in 1981, and the company name transitioned to Maloney & Reed.
The Big Move
In 1984, the firm of Maloney & Reed merged with the accounting firm of James Scarpitti to form Maloney, Reed, & Scarpitti. The merger included Scarpitti's offices in Edinboro and Erie. As the firm grew, more office space was necessary, so the company had to move to their current office locations.
The Firm Evolves
Rick Clayton came aboard the firm as an accountant in 1987 and became a partner in 1993. Maloney, Reed & Scarpitti then evolved into Maloney, Reed, Scarpitti & Company. The Corry office on Enterprise Road was established and housed three offices for MRS in 1995.
New Partnerships
The firm became a limited liability partnership (LLP) in March of 2001. In July 2015, Chris Elwell became partner. Chris had been an accountant with the firm since June 2007. On October 1, 2016, Mike Reed retired to enjoy his winters and tax seasons in Florida.
Contact Information
Maloney, Reed, Scarpitti & Company, LLP
3703 West 26th Street, Erie, PA 16506
Tel: 814-833-8545 • Fax: 814-838-6552

Corry Location:
200 North Center Street, Corry, PA, 16407
Tel: 814-734-3787 • Fax: 814-734-5504

Edinboro Location:
113 Meadville Street, Edinboro, PA 16412
Tel: 814-734-3787 • Fax: 814-734-5504
Business Hours:
Monday - Friday
8:30 a.m. – 5:00 p.m.
College Savings and Tax Code Updates


Watch out for new information about college savings and the latest changes in tax codes. We will soon be offering services related to these matters.